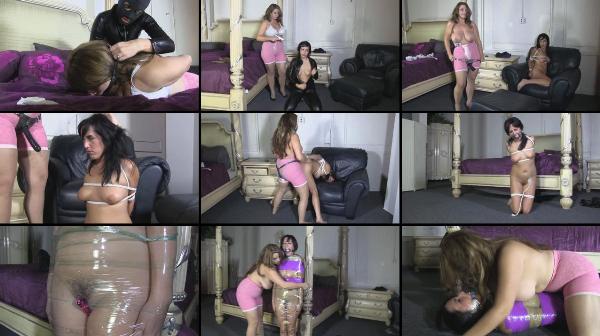 Dixiesdamsels – Lady Robber's Revenge…Ruined FUL
JJ starts to come around as Dixie finishes tying her up. Dixie gropes JJ's tits and ass as she tells her that she has come to find the money JJ has hidden from the slave trade ring she is in. Dixie leaves JJ on the bed in her binds to struggle as she goes to look through her house. During her struggles JJ manages to get free, unties and ungags herself and waits patiently for Dixie's return to the bedroom.
Dixie returns to the room and JJ jumps her from behind over powering Dixie and telling her to kneel on the floor with her hands on her head. JJ warns Dixie that this is the second time she has crossed her and there isn't going to be a third. JJ makes Dixie remove her mask, gropes her and then forces her to strip out of the catsuit and panties. As Dixie tries to talk her way out the situation, JJ decides that she needs to use that big mouth of Dixie's and forces her to kiss her.
JJ then binds Dixie's hands behind her back and her chest and takes the strap-on out of her bag. JJ orders Dixie to suck the black dildo, shoving it into Dixie's mouth. After JJ has had enough, she shoves Dixie's panties in her mouth and keeps them in with tape. JJ is interested in different lips… she forces Dixie to bend over the chair and screws her pussy with the strap on until Dixie cums. After JJ has had her way with the strap-on, she puts Dixie down for a little nap so she can prepare her for sale.
Dixie wakes up to find herself completely bound in rope and ball gagged but manages to semi get out of her binds. Unfortunately for Dixie, JJ comes back too soon and catches her trying to escape. JJ unties her while she gropes Dixie's naked body. She has a buyer for Dixie and must get her ready. JJ busts plastic wrap and starts to wrap Dixie.
After she has Dixie wrapped a good amount, JJ then places a bullet vibrator on Dixie's pussy and then wraps Dixie more in duct tape. She then wraps clear tape over her ballgagged mouth and brings out Dixie's burglar mask and places it backwards over her face, like a blindfold. Laughing as Jj puts her finishing touches, she leaves Dixie laying on the floor mummified, struggling and waiting for this buyer to come and get their package.
Includes: bondage, damsel in distress, tape bondage, vibrator, mummification, lezdom,lesbian domination,strapon,gun point,struggling, girdles, ballgagged, gag talk, sleepy, escaping, groping, pantyhose, catsuit, dildo fucking, lesbian, strap-on, forced stripping, girl-girl, dildo sucking, kissing, spit fetish, gagging, forced kissing, panty gag)