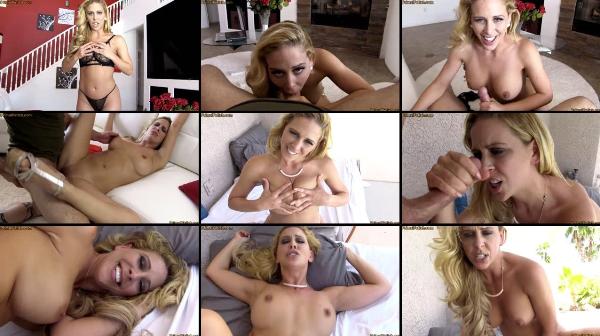 Primal's Taboo Sex – Cherie DeVille – Mom's the Only MILF for Me
Part One:
My mom is carrying my laptop and confronts me about the shocking discovery she found on it while trying to check her email. She cannot believe how much MILF porn I have been looking at. She wants to know if that is how I see her- as a sexy, mature woman who knows exactly what she is doing. She strips down to her sexy, black lingerie and asks me if this is what I want- a slutty older woman with big tits and a firm ass. She warns me that if I'm thinking about dating an older woman, then I better think again! She notices how large my erection is and demands that I take it out and stroke it like I do when I watch those filthy films. After watching me stroke my cock, she is surprisingly turned on. She insists that she help me as she gets excited but warns me that she better never catch me watching that smut again. She gets my cock wet with her mouth- she knows what they do in those smutty videos, she's not that naive. She knows that I love MILFs with large tits, so she takes her beautiful, big breasts out for me and slides my cock in between them. She makes me promise that I will never watch those videos again. She wants me to experience how an adult has a real orgasm, so she turns around and slides my rock hard cock in her hot pussy from behind. She wouldn't be the best mom if she didn't do the best that she could for me. My mom tells me that real men have to take charge sometimes so I take her while she's on her back, fucking her as she moans and her big tits bounce up and down. When I can't hold back anymore, I blow my huge load all over my mom's tits and chest. She is so very proud of me.
Part Two:
My hot mom is outside laying by the pool when she catches me watching her. She thinks that we need to talk about what's been going on between us- it's just not right. We're family and that's what family members are supposed to do. She understands that I have my needs, but we can't fuck anymore. She wants to just "help" me so that I don't watch that smutty MILF porn anymore. It has been a few days and she knows how badly that I need to cum again in order to get back to clear my mind and get back to my studies. Besides, a handjob is harmless, right? As she strokes my hard cock, she can't resist but be an even better mother and lets me fuck her face. It's not that she doesn't want to fuck, it's that it's so wrong. But since we've already done it before, what's one more time in mommy's pussy before we call it quits? My dad hasn't really been around lately and my mom really needs it too. I fuck her wet, ready pussy from behind and she loves it. She sucks my cock some more, deep throating it until I cum so hard in her mouth. She wants to savor it and lick it all up for me- she doesn't want to miss a single drop of my precious cum.
Cherie DeVille – Mom Wants Me to Be the Man of the House
Category: TABOO
Related Categories: MILF, MOMMAS BOY, HOUSEWIVES, OLDER WOMAN / YOUNGER MAN, POV