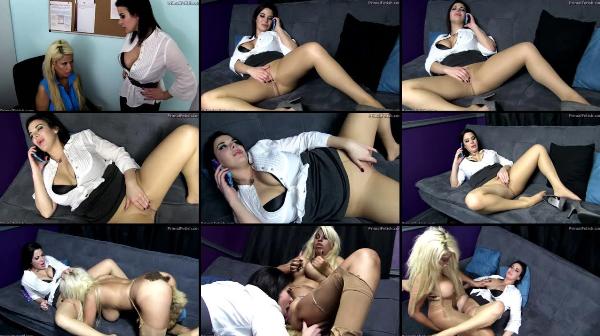 Primals Transformations – Bridgette B – Dont Make a Were Work Late
Bridgette has been very careful with her work schedule. She comes in early, plans her days off carefully, and takes every other precaution to deal with her condition. But her new boss, Kenna, is a total bitch. She not only makes her come in on a day off, but then she makes her work late, even after promising she just needed to come in for a few hours.
After yelling at Bridgette for trying to leave, Kenna has locked Bridgette in her office telling her she needs to get her work done. But Bridgette already feels the effects of the moon as Kenna lounges in her cushy office, sexy talking to her boyfriend on the phone and playing with her pussy through her pantyhose.
Bridgette cant stop her transformation, and primal hungers take over. Her eyes change to those of a wolf and her nails turn into claws. Fur and tail sprout out on her backside, and her face morphs as long fangs grow in her mouth. Meanwhile, Kenna is bringing herself to orgasm while thinking about her hot date, not worried about the work she delegated to poor Bridgette.
Now the werebeast has fully transformed and broken free, stalking into Kennas office. Her sexual appetite is beyond annimaillistic, and she lunges at Kenna. She has her way with her bitch boss, and then, as she is forcing Kenna to eat her pussy, a cock begins to swell and grow, going right down Kennas throat.
Bridgette fucks Kenna with her beastcock and makes her cum from the hard pounding, finally finishing by filling Kenna with a huge, hot load.
Category: TRANSFORMATION FANTASIES
Related Categories: TRANSFORMATION FETISH, FUTANARI, OFFICE DOMINATION, FEMDOM, LESBIAN DOMINATION