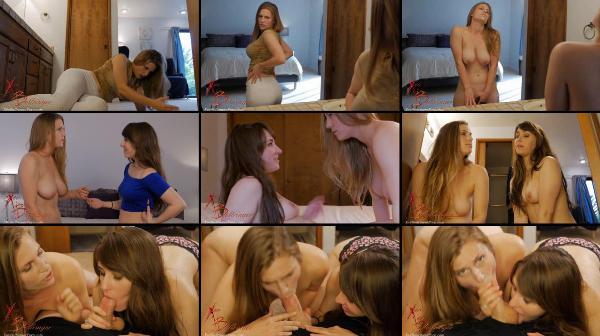 My brother is such a sneaky little pervert for what he pulled – slipping that weird stuff into my perfume that made us… swap bodies. As soon as I came to, he clamped a towel over my mouth making me go completely limp. Then I could nothing but watch my own brother take great pleasure exploring MY body in front of the mirror. He stripped down to nothing, groped his new big breasts, and rubbed the soft pussy between his legs… MY pussy. He was teasing me.
I didn't think it could get any worse until he picked up my cell phone and called my best friend Leia – the girl my brother completely obsessed over… but never had a chance with. Until now. He knew our secret… that she and I fuck each other. Now he wants his piece of the action, convinced the only way Leia would open her legs for him is with his sister's body!
My brother wasted no time when she showed up, lustfully groping Leia… feverishly stripping her down to her panties, rubbing his new naked body against hers. Leia barely had time to question her lover's unusual behavior before he pushed her aggressively onto the bed, climbed on top, and kissed her hard. Suspicions peaked, Leia suddenly protested his advances and demanded an explanation. Defeated, my brother grudgingly admitted that he had swapped bodies with her real lover, who was incapacitated in the closet.
He lead her to my paralyzed, helpless body, but refused to swap our consciousness' back until Leia fucked him. With a smirk and a teasing lick of her lips, Leia turned the tables – she could get used to me in a man's body… and lowered her perfect lips down to my hard cock, taking it into her mouth. Ohhhh it felt good… Insanely jealous, my brother insisted he would swap our bodies back if only she would suck his cock like that after the switch. Leia agreed to the deal… on the condition that he suck his sister's cock right then and there.
Was this really happening?? My own brother pleasuring my rock hard cock with his mouth…. MY mouth. There was something so perverse about seeing him in my curvy body, gradually submitting to a new-found undeniable need for cock and cum… and I would give it to him. And he would swallow it down, every last drop.