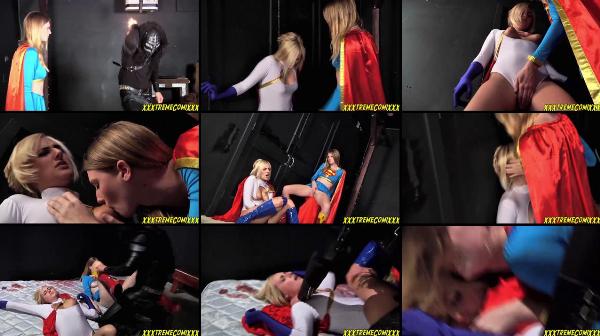 XXXtremecomiXXX – War World with Supergirl & Powergirl – Kate England, Ashley Lane
Starring Kate England, Ashley Lane and MaX CoXXX
Welcome to War World! A place where you can see heroes and warriors from different worlds, times and dimensions fight for their freedom!
Today the game master has captured Supergirl from Earth Prime and Powergirl from Earth 2, the two equally matched heroines will put on quite a show!
The two heroines face off, Supergirl begins by telling Powergirl that if they work together that they can escape this without fighting. Powergirl laughs at Supergirls request and fires her laser vision, Supergirl does the same catching the beam. Powergirls attacking her angers her so much that she is ready to teach this second rate hero a lesson.
Supergirl pushes her laser vision hard, then runs up and punches Powergirl in the stomach then throws her across the room and rushes to punch her again. A few hits and Powergirl is done, Supergirl further humiliates her by playing with her tits, squeezing her nipples and sucking on them, slapping her breasts around and rubbing her pussy through her costume. She tickles the defeated heroine, then makes her worship her boots while she masturbates to orgasm.
Supergirl, thinking she has won, demands the game master to send her home, so he puts it to the audience for a vote. BOO. Both heroines have failed and must be punished in the dungeon.
The game master takes the heroines to the cell and before punishing them, fucks them, hard and mean, spanking them and tearing them up with his cock until he cums!
Fetish Elements: Explicit Sexual Content, Superheroines, Fighting, SFX, Humiliation, Belly Punching, Breast Play, Breast Torment, Nipple Twisting, Nipple Sucking, Boot Worship, Masturbation, Girl on Girl, Tickling, Forced Orgasm, Fucking.