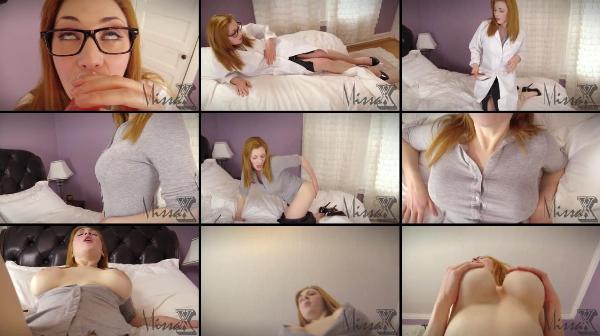 Miss Missa X – Sex Induced Breast Expansion
Geeky Vivianne has always wanted bigger breasts. She works as a scientist, and has been tinkering with a potion that will make her breasts grow two sizes larger! She thinks she has the formula perfected and she gushes to her boyfriend, "I'm going to have the sexiest, biggest breasts, just you wait and see."
She drinks the formula in the beaker and she feels it pump through her . The whites of her eyes transform into red. The estrogen inside of the potion is making her extremely turned on. She looks down and feels her breasts, there is no change.
Her boyfriend assures her that he likes her "just the ways she is," but it's not good enough for Vivianne. She explains that she needs to feel excited to trigger the estrogen inside of the formula. "Dancing for you always makes me feel turned on, stand up, let me strip for you." Vivianne strips seductively for her boy, and she takes off her conservative laboratory coat. She unzips her skirt, sees her boyfriend getting undressed also, and the transformation begins..
Her breasts grow from a humble B cup to a double-D cup. The buttons fly off of her blouse. Her boyfriend is so turned on by her brand new feminine frame, that he wants to fuck. He climbs overtop of her and she guides his cock inside of her. "MMm," she moans, "that feels so good." She is excited at the possibility of her breasts growing even more as she fucks her boyfriend. "Yes!" She fucks him from behind. She wants to ride him. "I want you to cum inside of me." He obeys her command and she looks down at the beautiful mess that he made. "Mmm… let's see if you can make my breasts even bigger.
She pulls him into her, hoping that the more she is fucked, the more her breasts will gro