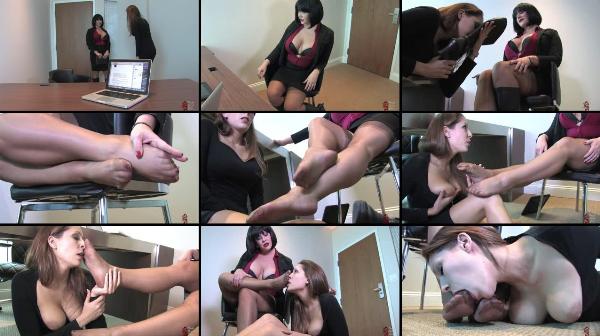 Naughty Dragon Studios – SOPHIA STONE, nikki – Slave f0r St0ckings
Nikki sits in her office with excited anticipation. Today is the day. Today is the day SHE arrives. It was only a few weeks ago that Nikki responded to an advertisement placed by a very wealthy woman accepting applicants to be her slave. Nikki has always dreamed of such a relationship and can hardly wait to begin her service.
Just then, her personal phone rings. It is her secretary with a message that a very beautiful, extremely well dressed woman is here to see her. Send her in, Nikki gasps. Right away! With that, the elegant and almost majestic Miss Sophia Stone arrives. With a reception reserved for those of royal , Nikki curtsies and kisses the outstretched hand of Miss Stone. She is very nervous in the presence of such a dominant woman and tries to mask the anxiety by making small talk. Miss Stone quickly dispels of the idle chit-chat and gets down to business handing Nikki her iPad. Read, she commands.
Nikki begins to read what appears to be conditions of the contract for her slave services. As she reads off the items one by one, she is surprised by the last item. It dictates that Nikkis husband will become her sex slave. I thought this would be a private agreement limited to my office only, Nikki stammers. I must confer first with my husband. Miss Sophia demands that she sign the contract and THEN she can call her husband with the news. Nikki signs with some apprehension but is eager to please her new Mistress. As vague as she can be, Nikki calls her husband and lets him know there will be a guest coming home with her tonight that will be staying with them for a while.
When she hangs up the phone, she asks Miss Stone if she can be of service. The new Mistress only comments that her feet are sore from the trip and they are also very sweaty within here sheer nylon stockings. Nikki, like a god slave, offers to remove her mistress boots. Sophia allows it and Nikki excitedly unzips her boots to reveal Sophias red tipped toes. Sophia, relieved to be free of her boots, begins to rub and stroke her soles. Nikki is mesmerized and soon asks to smell the aroma of her mistress foot stink. She breathes in deeply smelling her feet. Sophia mentions that she has not bathed for 2 days and her stockings have been used for a week without a wash. They are nice and smelly, just for you, kitten, she purrs. Nikki is is heaven, inhaling the beautiful odor of her sweaty feet.
Miss Sophia Stone now demands that Nikki clean the sweat off of her feet with her face. As Nikki rubs the sweaty soles of Sophia across her face, both women are beginning to be turned on. Nikki drags her mistress feet across her face, inhaling deeply. Now the feet need to be washed and Sophia commends her new slave to kiss and lick her feet making sure they are covered in saliva. Both woman are now in a restrained sexual frenzy until Sophia declares that they must leave right away for Nikkis bed AND her husband! Nikki zips Sophias boots back on and they both leave the office bound for a life of absolute servitude.
PANTYHOSE/STOCKINGS, FOOT WORSHIP, FOOT DOMINATION, FOOT SMELLING, LESBIAN DOMINATION, FOOT LICKING, SENSUAL DOMINATION, SLAVE TRAINING
Category: FOOT SMELLING