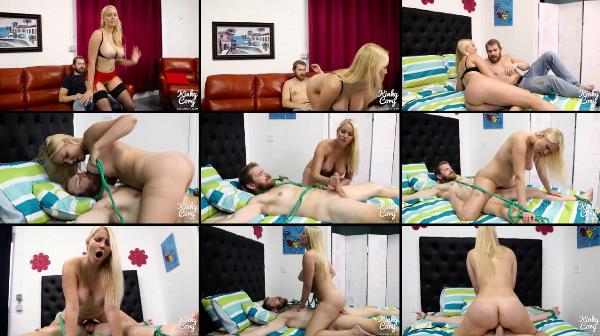 Vanessa Cage – Our Last Date
Scene One: Vanessa's surprise
Vanessa is dressed in a sexy outfit for her boyfriend. She mixes them some drinks and goes to surprise him. It's good right? She says watching him drink it down. I've been waiting for you all day today. She gives him a sexy strip show, taking off her clothes and grinding on his lap. Let's go to the bedroom She smiles. The blood rushes to his cock and the drugs in his wine take effect. He passes out on the bed. When he wakes Vanessa is on top of him and he's tied up with a rope around his neck. Shut up and suck my tits She yells at him. Tonight I get to do what I want to do! Vanessa transforms from a loving girlfriend into a forceful dom.
Scene Two: Everything she ever wanted
You can't like this too much Vanessa says, sucking his cock and teasing him. He can't stop her from getting his cock hard and wet. She slides it into her tight pussy and fucks him. He doesn't want it this way, but half drugged and tied up he has no choice. She rides him just like she always wanted. Using him like a dildo to get off. Getting closer to cumming she tightens the rope around his neck and rides him even harder. Screaming and moaning she pulls the rope as tight as it will go, cumming hard on the cock inside her. He cums filling her up and passes out naked and humiliated. She's not going to untie him until she gets everything again!
Vanessa drugs her boyfriend and grinds on him on the couch, then lures him to the bed and while he's passed out she ties him to the bed, then sucks his dick and rides him reverse cowgirl and then cowgirl until she's had enough. I can't get enough of Vanessa Cage with those huge tits and giant ass, so I hope you enjoy her too!