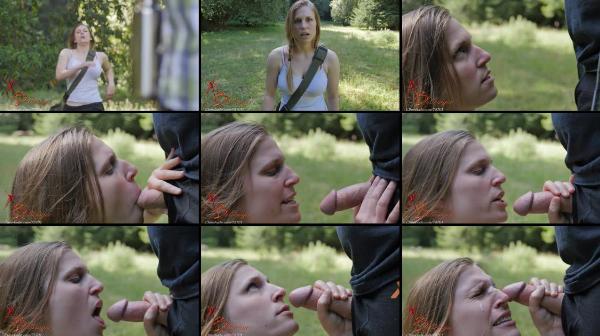 Xev got separated from her hiking group and lost in the woods for several hours. She has grown thirsty and is desperate for a drink of water. Finally, she spots another lone hiker and approaches him to request a sip from his canteen. He will oblige her on one condition: that she gives him something in return. Xev is discouraged as she has nothing to offer until the hiker insists that she give him a blow job as an exchange. Out of desperation, Xev agrees to this man's perverted request and begrudgingly gets on her knees and takes his cock in her mouth.
The hiker demands to finish with a facial so Xev takes his seed all over her face. As she stands up, upset and defiled, he hands her the bottle of water.
Xev greedily drinks her reward with his cum still on her face and storms off, disgusted.
Fantasy includes: blow job, facial, female desperation, blackmail, outdoor public blowjob, strangers
Category: BLOW JOBS, OUTDOOR PUBLIC BLOWJOBS, CUMSHOTS, FEMALE DESPERATION, STRANGERS, FACIALS