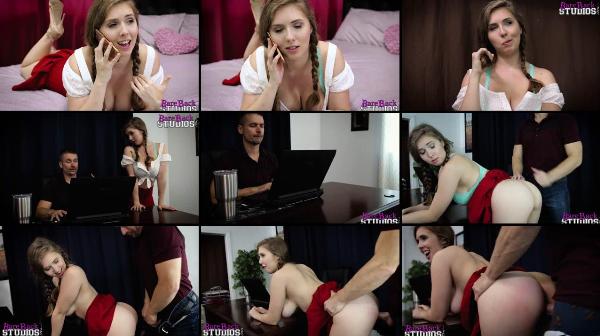 Bare Back Studios – Lena Paul in Daddy Issues – The Bet
Scene One: The bet
"I'm so horny all the time, all I really want is having a mans cock inside of me. I've never had it but I'm so curious" Lena writes in her diary. A phone call and one
dirty bet later Lena is dared to get her dad to fuck her. "What the hell!" Lena says but the thought of a new car is too much for her.
Lena approaches her dad while he's working and does her best to seduce him. She tells him how bad she's been and that she crashed her car. In anger he bends her over
the desk and spanks her bare ass. She moans as her dad's hand slaps her hard. "I'm so sorry daddy I've been really bad" She squeaks softly. "What are you going to do to
me daddy? Are you going to put your big daddy cock inside of me" She says cutely and lets him punish her mouth and pussy. "I've learned my lesson. I'm really sorry
daddy, I'm a bad little girl" She moans. "What am I doing, get your clothes on" he says after cumming inside of her.
Category: TABOO
Related Categories: BLACKMAIL FANTASY, TABOO, CUM SWALLOWERS, BIG TITS, CREAMPIE Keywords: lena paul, taboo, daddy's girl, luke longly, daughter, cum shot, milf, cum