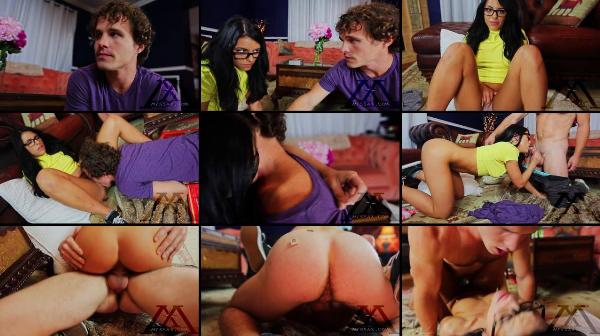 Missa X – Game Night II – Adriana Chechnik
A sister (Adriana Chechnik) wearing glasses and sneakers fucks her brother in various positions. The love making is passionate. They have sex on the floor and they kiss as she rides him. He then mounts her and thrusts until the scene ends in a creampie.
Includes: Adriana Chechik as passionate, thoughtful sister, Robby Echo, pulsating orgasms, creampie
Adriana is playing a board game with her brother, it's her favorite word game, but her racing thoughts are so loud it's hard to enjoy it. Adriana has a lot on her mind lately, she's a sweet and introspective girl, and she's conflicted with her brand new thoughts on sexuality. Robby listens to his sister's thoughts on words that are not allowed in the dictionary at school. Adriana explains, "try to find the word, cunnilingus, in this book. They've omitted that word from this dictionary." Robby explains, "it's the school dictionary, maybe they didn't think it was appropriate." Adriana shakes her head in frustration, "they've taken out the word as if it doesn't exist in the English language, and by omitting this words, and others they've essentially censored an entire language, don't you see how dangerous that is? If you censor a word, you're censoring an idea, and shaming those who think of it."
Adriana has many secret ideas and fantasies, and she resents feeling ashamed of them. She looks into Robby's eyes and knows he has fantasies as well. Is it so wrong to act out on them? Her hand reaches into the game's box at the same time as his does, their fingers meet, electric pulses through their veins, they feel a deep connection, a burning need to act on their fantasies. Adriana leans forward, he holds his breath and meets her half way, they kiss. Adriana breathes him in and pulls him closer to her, she needs to feel his warmth against her, she wants to smell him, she wants to taste him, feel him inside of her. "Please," she whispers as he wraps his hands around her body ready to allow his instinct to take over. He enters her, she's so tight, wet, she gasps as he thrusts his hips, deeper and deeper, she feels every inch of him. "Cum inside of me," she begs.