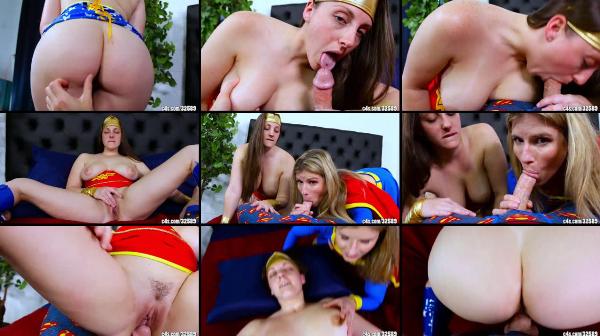 Scene One: The only way
Wunder Woman wants to have a heart to heart with you about your recent decision to commit crimes for money. Imbued with powers from your mother Super Gurl no one can really stop you, but before anything major happens Wunder Woman wants to talk you out of it. I can show you what it's like to be bad sometimes She says, pulling down her top and letting you feel her large breasts. She slides up her skirt and you can see and touch her glorious body. Laying on top of you she thinks it's the only way to make you a hero. Wunder Woman slides her hand along your cock and sucks you. She lovingly and passionately pleasures you for the sake of the world. Wunder woman spreads her legs and rubs herself in front of you, moaning and shaking. She masturbates until she cums all over her powerful fingers. Worked up, she goes back to sucking your cock.
Scene Two: Hero worship
What's going on Super Gurl asks to find her son being sucked off by her best friend Wunder Woman. Super Gurl knows what has to be done to keep you from being evil and helps by sucking you off. The two most powerful women in the world pleasure you to make sure you're never evil again. Wunder Woman wants to be fucked by your super cock. Super Gurl encourages and helps you fuck her silly. Her large bouncing breasts in your face and tight warm pussy make you explode your load on her pussy. Unable to help herself Super Gurl licks her friend's pussy clean. This is what it means to be a superhero.