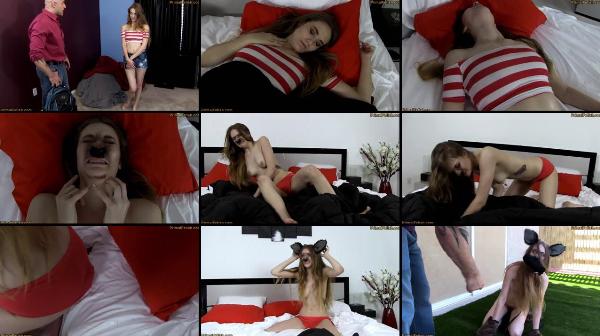 Primals Transformations – Samantha Hayes is a Real Bitch
There is nothing Samantha loves more than acting like a total bitch to get her way. Her boyfriend promised his buddy he could stay at their house for a week while his place is flooded, but Samantha doesn't want a loser staying in any of their spare bedrooms. Or even on the couch. She gives the loser an old, dirty blanket and tells him to sleep on the floor. Her boyfriend's out of town, so there's no hope for the buddy to turn the situation around. He glowers at Samantha as she prances out of the room to a real bed. What a bitch! Having manipulating her boyfriend into treating his buddy like a dog, Samantha curls up in bed, a proud bitch as she drifts off to sleep.
Samantha starts to stir in the night as the temperature seems to rise to scorching levels. Soaked in sweat, she yanks off her shirt in a futile attempt to cool down. Her whole body aches. Something is changing in her. Or maybe she's just finally becoming her true self.
Category: TRANSFORMATION FANTASIES
Related Categories: TRANSFORMATION FETISH, MAGIC CONTROL, SWEAT FETISH, PUPPY PLAY, ALIENS & MONSTERS