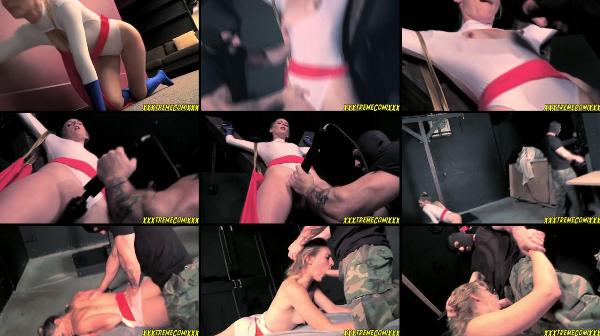 XXXtremecomiXXX – Bane Dominates Power Girl
Starring Mona Wales and Miles
Directed by Alex Dorian
Power Girl is on the hunt for Bane, she sneaks through his secret hideout and finds him, she rushes at him throwing punches but he is too powerful even for her. In a rush of rage, he takes her down and then straps her onto the X till she wakes.
Once she wakes up, he takes her tits out and fondles them, and decides to torment her by tickling her, he tickles her sides and her feet and all over, which weakens her up a bit.
He pulls out a power stealing vibrator and rubs it on her pussy, it quickly brings her to orgasm, and with every mind boggling orgasm, she gets weaker and weaker, until she is powerless.
He pulls her down and drags her to another room, she tries to escape, but she is just a normal girl, and can't fly or super punch. Bane throws her down on a mattress and takes his dick out and fucks her heroine pussy hard and deep, then pulls out and fucks her face until he cums